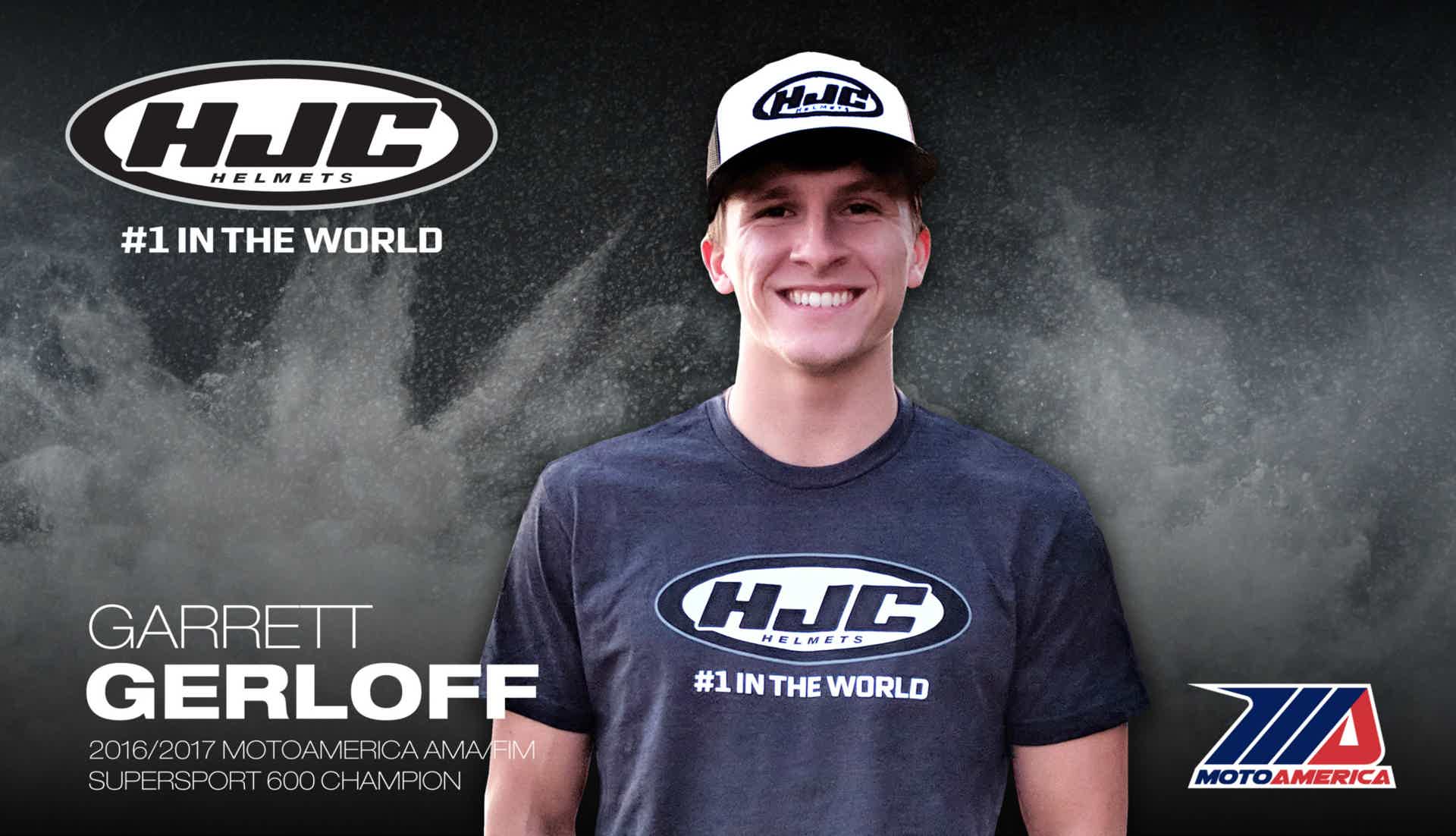 2018 will find Garrett Gerloff on a faster bike, in a higher level of racing and wear a new helmet. Garrett Gerloff will join the Monster Energy Yamaha Factory Superbike team for the 2018 MotoAmerica Superbike season with the support of HJC Helmets. The Texas rider will be taking Josh Hayes' seat on the YZF-R1 in the first race at Road Atlanta.
The 22-year-old earned his place among the most elite field of American motorcycle racers. After winning the MotoAmerica SuperSport championship in 2016 and defending his title in 2017, Gerloff proved his talent and focus on two wheels. Although it is Gerloff's rookie season in the Superbike series, his calm and confident character remains unchanged. The young rider was fast at the Thunderhill Test in late 2017; in fact, he was the third fastest in the Superbike field on his YZF-R1.
Gerloff will be wearing a brand new helmet that has yet to be debuted from HJC. It is designed specifically for racing at a professional level, based on the RPHA 11 Pro helmet. With extreme speeds in mind, the HJC R&D team worked at their in-house wind tunnel to adjust the aerodynamics of the helmet. In addition, the eye port was increased for added visibility in a tucked riding position.
Quote from HJC – "We are excited to see Garrett's performance on the superbike. He has been consistent in the past as a SuperSport rider, so more experience with the new bike will only increase his trust and riding skill. HJC sees a future of professional riding for Garrett beyond the 2018 and 2019 season, potentially around the world. We have fond memories of the last time that we sponsored a young Texan and we are hopeful that history will repeat itself."
Quote from Garrett – "Growing up watching Ben Spies dominate AMA, then World Superbike, and finally mounting a charge against the best in the world in MotoGP was and has been a huge inspiration for me over the years. And there was nothing quite like seeing that Texas Flag and famous Longhorn Skull on his custom RPHA10 HJC Helmet being held high and proud on top of the podium. ICONIC. So I couldn't be happier to finally say that I'll be joining the same amazing company that supports one of my biggest heroes! I've seen HJC on top of the podium ever since I watched my first ever road race on TV and I've heard nothing but the best from all different levels of racers around the world. The HJC RPHA 11 Pro fits me perfectly and I feel incredibly comfortable and confident on the track. I have similar aspirations as my fellow Texan, and with such a great company like HJC supporting me, there's no limit to where we might go. Bring on 2018!"
In supporting top racers like Garrett Gerloff, HJC has committed to being a part of the growth of motorcycle racing in North America. In addition to Garrett Gerloff, HJC also supports Brand Ambassador Ben Spies and 2017 MotoAmerica Superbike Champion Toni Elias.