PARTNERSHIP WITH HYUNDAI N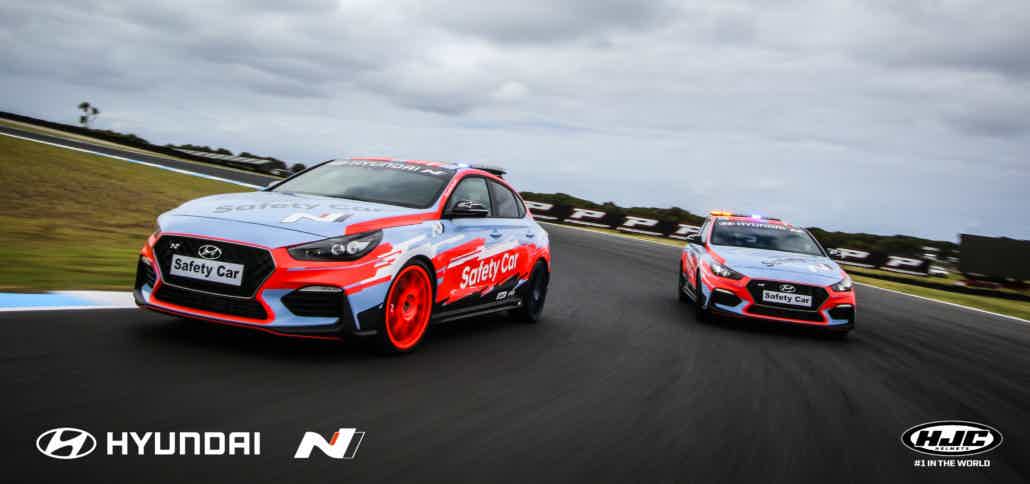 HJC HELMET'S PARTNERSHIP WITH HYUNDAI N TAKES THEIR HELMETS TO WORLDSBK
Hyundai Motor joined forces with Dorna WSBK Organization to become the Official Safety Car of the 2019 MOTUL FIM Superbike World Championship. It is an exciting move for Hyundai as the automotive company becomes more involved with the sport of motorcycle racing through their sponsorship of an elite, international series.
HJC Helmets has partnered with Hyundai for various events in the past, as both companies are renowned manufacturers based in South Korea. Although HJC is usually involved with Hyundai's automotive events, this time Hyundai takes HJC full circle, back to their roots of motorcycle racing.
Each of the drivers of the Official Safety Cars will use HJC Helmets to add protection while leading their Hyundai N around the track. In addition, guest passengers will also wear helmets provided by HJC, adding comfort to their exhilarating experience. You can say this makes HJC Helmets the "Official Helmet" of the Official Safety Car of the MOTUL FIM Superbike World Championship.
Hyundai's N division develops sportier cars designed with high performance in mind. As a company that also focuses a large portion to motorsports with automotive and motorcycle racing helmet development, HJC was quick to secure their partnership with Hyundai. HJC is also a title sponsor with Dorna MotoGP, so each company is heavily involved in the support of motorcycle racing.
The WorldSBK calendar will take fans to Thailand on March 15-17, where spectators will be able to see Hyundai's safety vehicle and HJC helmets in action.