OUR FAVORITE SUPERHEROES ARE HERE AGAIN!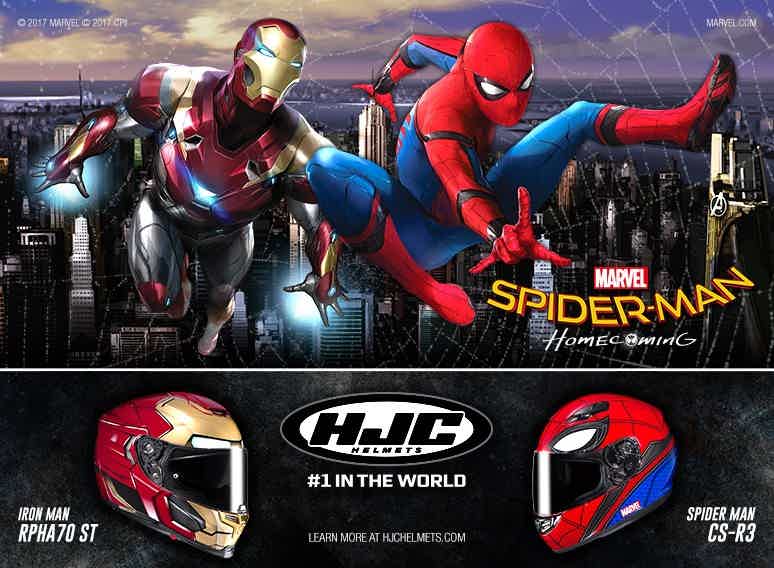 NEW Spider-Man and Iron Man graphics have been added to HJC's Marvel motorcycle helmet line-up to celebrate the release of Spider-Man: Homecoming.
The CS-R3 Spider-Man: Homecoming motorcycle helmet graphic clearly reflects Spider-Man's digital, blue and red suit from the new movie; vs the classic, comic Spider-Man graphic that was previously released on the RPHA 11. This graphic will appear on HJC's CS-R3 model, one of HJC's staple helmets available at an accessible price for all riders.
The refreshed Iron Man graphic highlights the sophisticated, metallic features from Iron Man's suit in the new film. In addition, it is featured on HJC's brand new RPHA 70 ST model. The RPHA 70 ST, part of HJC's high-end RPHA series, is designed for Sport Touring and comes with an internal, drop-down sunshield.
So, who will you choose – the friendly neighborhood superhero or his mentor?
The CS-R3 Spider-Man: Homecoming will be available at authorized HJC dealers alongside the movie release on July 7th, 2017 and the RPHA 70 Iron Man will follow in the Fall of 2017.
CS-R3 Spider-Man Homecoming – Available in sizes XS-2XL. DOT / ECE $159.99USD
CS-15 Spider-Man Homecoming – Available in sizes XS-2XL. ECE €179.90
RPHA 70 ST Iron Man Homecoming – Available in sizes XS-2XL DOT / ECE $609.99USD
RPHA 70 Iron Man Homecoming – Available in sizes 2XS-2XL ECE €649.90
For more information, visit www.hjchelmets.com or contact info@hjchelmets.com