IT'S BACK… AND IT'S TWISTED.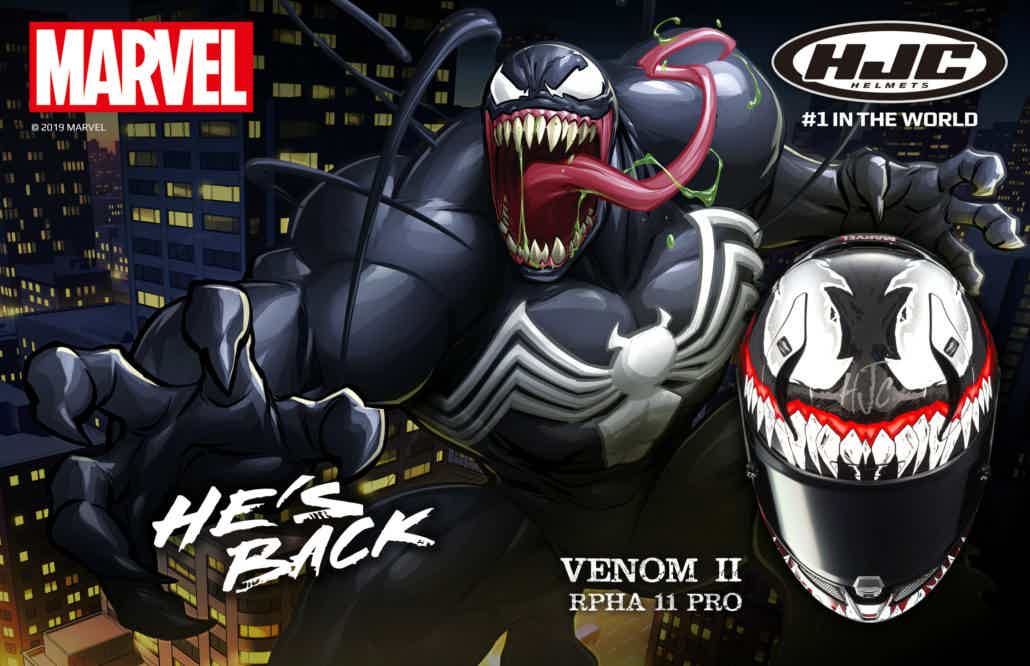 In 2016, HJC released the RPHA 11 Spider-Man and RPHA 11 Venom helmets, allowing riders to choose between your friendly, neighborhood hero, or the chilling antihero.
Although Spider-Man is one of the most popular comic characters of all time, it was the RPHA 11 Venom that becomes one of the most popular helmet graphics to ever hit the motorcycle industry. HJC dealers could not keep this item in stock.
However, after a few years of review, the designers at HJC thought that maybe, after all, the RPHA 11 Venom looked a little too nice. So, HJC worked with Starline, the original Venom helmet designer and an Italian designer that paints for a number of top MotoGP racers, to come up with something that was even more dark and twisted.
Now, HJC brings you the RPHA 11 Venom 2. With sharper teeth and a wider scream, this graphic is fueled by rage. By Spring 2019, every rider will be able to host this powerful alien symbiote.
The new Venom design will continue to be featured on the RPHA 11 (Pro), HJC's premium sport helmet. The RPHA 11 is designed for the race track with an aerodynamic shell structure composed of HJC's Premium Integrated Matrix (P.I.M. Plus) shell material for enhanced shock-resistance in a lightweight helmet.
Smoke shield and anti-fog lens included.
RPHA 11 Pro: DOT & ECE approved. XS-XXL
RPHA 11: ECE approved. 2XS-2XL
5-year warranty
$599.99 USD / €599.90 EU