RULE THE ROAD AND BRING ORDER TO THE HELMET GALAXY!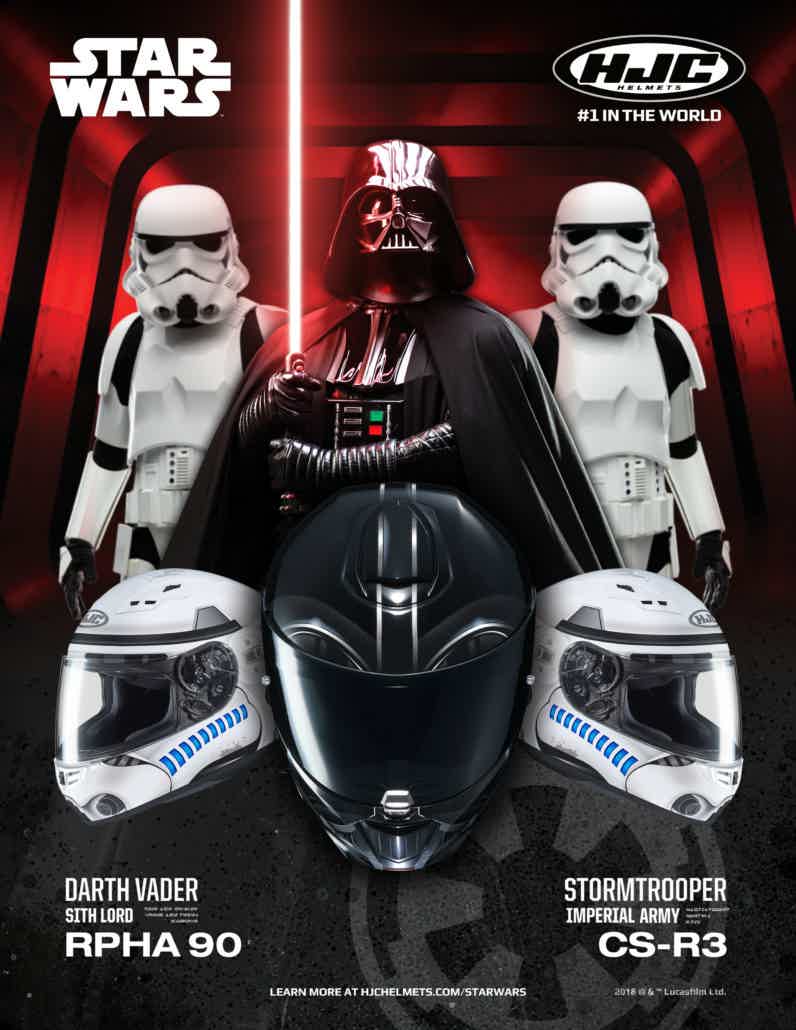 Finally, Star Wars' most iconic characters are available from HJC's licensed helmet line. Ride to the dark side with Darth Vader themed RPHA 90 and Stormtrooper themed CS-R3 helmets.
Both inspired by the original Star Wars trilogy, the Stormtrooper design replicates the original, white combat helmet, with blue stripes to mimic the air-supply hoses. The motorcycle helmet appears to be fresh out of the battle with its distressed markings.
The Darth Vader RPHA 90 helmet captures details such as atmospheric sensors, low-power relay transmitters and the breath mask. The mouth vent art is even placed on a functioning helmet vent. The nearly all-black helmet includes a red lightsaber glow and Aurebesh phrases, as well as a red interior exclusively designed for this helmet.
To add variety to the helmet models in HJC's Star Wars product line, the Darth Vader graphic is featured on HJC's RPHA 90, a brand new, high-end modular helmet, and the Stormtrooper graphic is featured on the full-face CS-R3 at an accessible price. The PRHA 90 is the most compact modular motorcycle helmet; resembling a full-face helmet through weight and appearance, yet functioning as a modular helmet for convenience.
Get into formation with the Stormtrooper CS-R3 helmet, or lead the Empire with the Darth Vader RPHA 90 helmet. The choice is yours.
RPHA 90 Darth Vader
DOT & ECE, Sizes XS-2XL, $699.99 USD
ECE, Sizes XS-2XL, €699.90 EU
CS-R3 Stormtrooper
DOT, Sizes XS-2XL, $169.99 USD
CS-15 Stormtrooper
ECE, Sizes XS-2XL, €179.90 EU
STAR WARS and related properties are trademarks and/or copyrights, in the United States and other countries, of Lucasfilm Ltd. and/or its affiliates. © & TMLucasfilm Ltd.