QUARTARARO LE MANS REPLICA ON RPHA 1
LOOK LIKE A MOTO GP CHAMPION WITH HJC HELMETS' LIMITED EDITION
HJC Helmets, a leading manufacturer of premium motorcycle helmets, has announced the release of its latest masterpiece, the limited edition FQ20 France GP Replica helmet on the industry changing RPHA 1 model. This graphic is a tribute to the French sensa­tion, celebrating his home track in Le Mans.
HJC Helmets has been setting the industry standard for over 52 years, developing some of the most innovative and technologically advanced helmets in the market. The RPHA 1 helmet, a favorite among riders, is no exception, developed after several years of focused efforts and crucial feedback from top world class athletes in MotoGP.
The Quartararo Le Mans Replica helmet features a stunning design inspired by the French flag, with a glossy finish and bold, eye-catching graphics with El Diablo's signa­ture logo on the top of the shell. lt boasts a lightweight and robust shell construction made from HJC's Premium Integrated Matrix (PIM+) technology, a multi-point ventila­tion system, a removable and washable interior, and a Pinlock-ready face shield, topped off with an official FIM safety homologation.
The limited-edition Quartararo Le Mans Replica helmet on the RPHA 1 pays homage to France's very own Moto GP World Champion and HJC's tradition of producing top-quality helmets.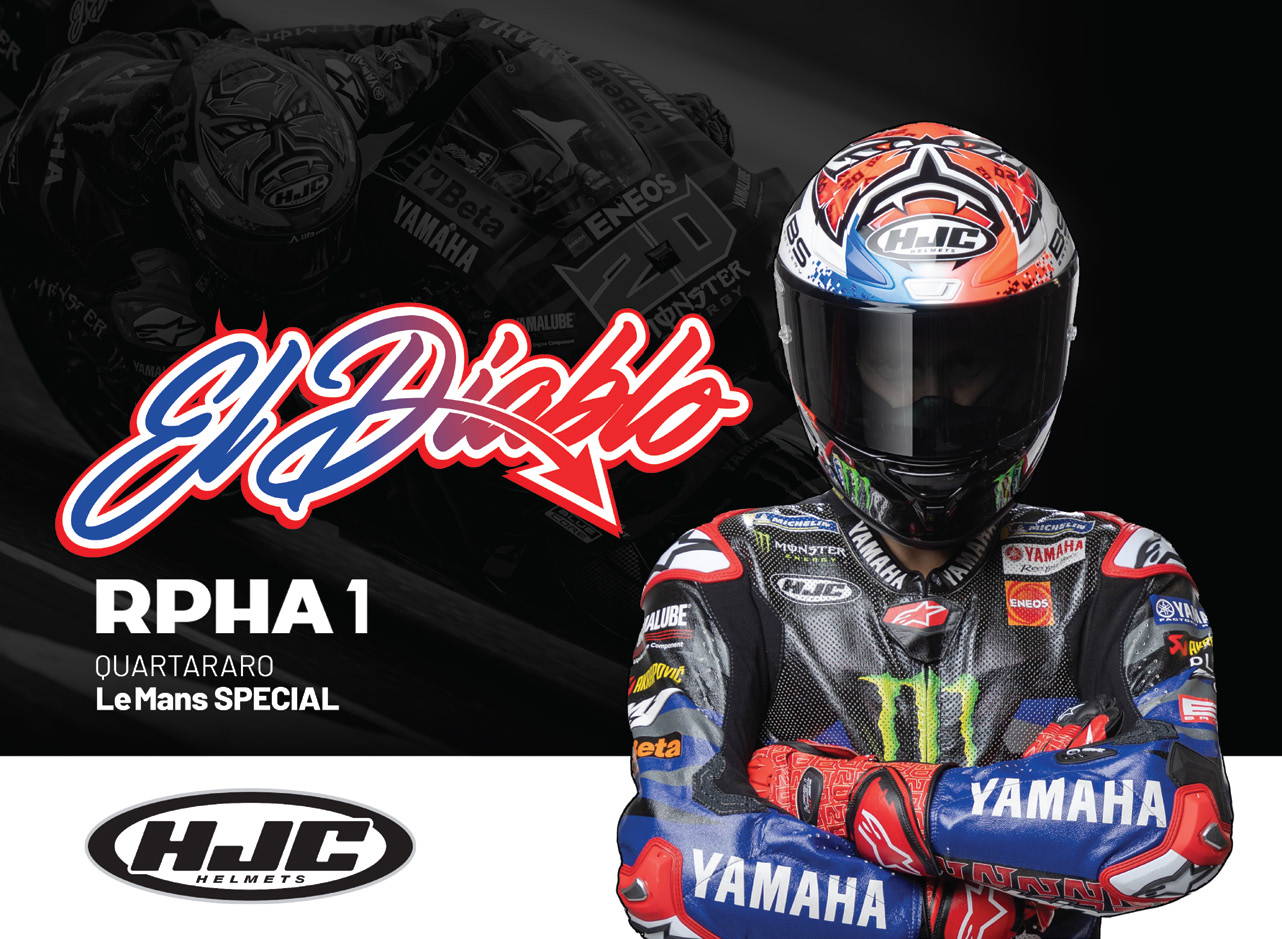 The RPHA 1 helmet is the perfect canvas for Fabio's iconic design, which features a glossy finish and striking graphics inspired by the French flag. We are proud to offer riders the chance to own a piece of MotoGP history.
The HJC Quartararo Le Mans Replica helmet on the RPHA 1 will be available for purchase starting this summer 2023. Don't miss out on your chance to look like a MotoGP champi­on!
For more information about HJC Helmets and the Quartararo Le Mans Replica helmet on the RPHA 1, please visit the HJC Helmets website at www.hjchelmets.eu.