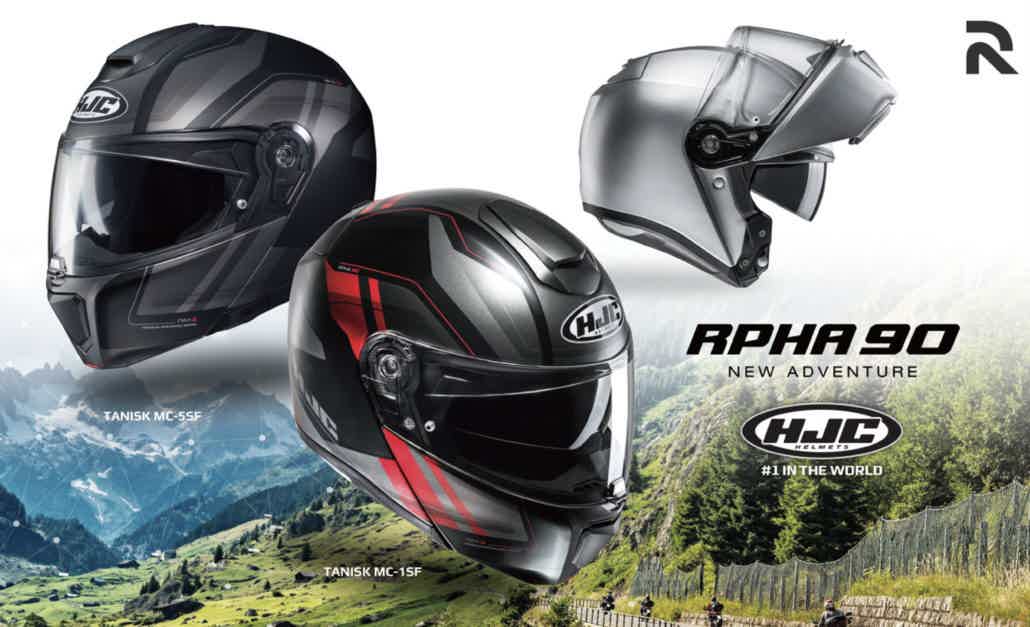 THE ALL-NEW RPHA 90: MODULAR HELMET REINVENTED.
The RPHA 90 is the most compact modular motorcycle helmet in the world, resembling a full-face helmet through weight and appearance, yet functioning as a modular helmet. The helmet's super-lightweight is a result of the compact shell constructed of HJC's very own Premium Integrated Matrix (P.I.M.+) shell material. This technology provides enhanced shock resistant performance and superior aerodynamics while maintaining comfort for riders.
The ultra-light RPHA 90 is equipped with HJC's new Sun Glide system. The inner-sun visor operates smoothly on an adjustable wire for ease of use, lowering a longer and wider anti-fog and anti-scratch visor for better sunlight eye protection.
The helmet's Seal Secure shield system permits riding in any weather environment, wherever adventure might take you, by keeping water, dust, and noise out. The tight seal, combined with noise canceling interior, allow for a relaxing ride so riders can remain focused on the road.
New vents are strategically placed in high pressure areas to increase air circulation through large top and mouth vents and rear exhaust vents. Air is channeled through the interior cooling system to keep the rider's head dry and cool.
The RPHA 90 is universally compatible with communication systems through added speaker pocket space and easy wiring through the removable interior. The RPHA 90 was designed and tested with the SmartH communication system, a Cardo and HJC collaboration.
For added safety, the RPHA 90 protects riders in low-light conditions with high-visibility reflective patches in the front shield area and rear lower padding of the helmet.
The RPHA 90 is designed for comfort during a long journey, but it is also convenient for short rides and frequent stops. The chin bar lifts with ease to a modular position for rider convenience. The helmet accommodates riders who wear glasses with HJC's Glasses Groove built into the interior.
Each helmet released by HJC Helmets is designed and thoroughly reviewed with safety, comfort, convenience, and functionality in mind. The RPHA 90 is a product of vigorous testing at HJC's in-house wind tunnel and R&D center, and feedback from HJC's previous premium modular helmet, the RPHA MAX. With this new helmet, riders can surely expect revolutionary improvements and features.
Sizes XS-2XL. DOT approved.
MSRP starting at $459.99